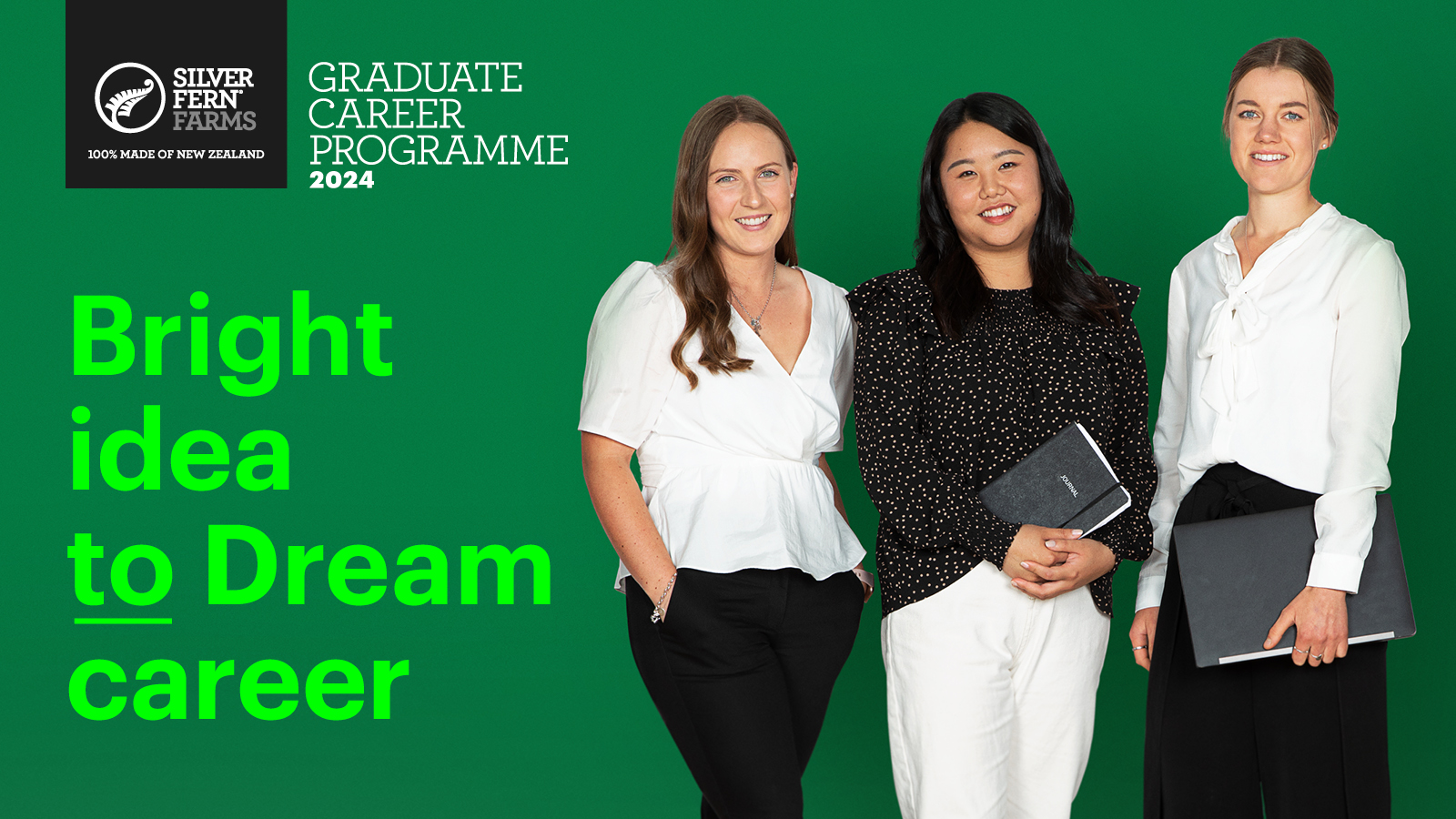 Graduate Career Programme
Expertise:
Administration & Office Support
|
Employment Type:
Permanent
|
Apply Before:
25/06/2023, 23:55PM
APPLY NOW
Where to from here? Chances are that's a question you've been asking yourself as the transition from study to work fast approaches. Where can you continue to learn; where will you be inspired and empowered to grow? And importantly, where can you do something good – something that drives and delivers positive change for the world?
The good news is, creating goodness – for the benefit of the world and your career – begins right here, at Silver Fern Farms. Bring your energy, enthusiasm and innovative ideas and together let's meet the future of our industry head on. Sound like you? It's time to apply for the 2024 intake of the Silver Fern Farms Graduate Career Programme.   
At Silver Fern Farms we're all about Creating Goodness from the Farms the World Needs. Creating goodness is about taking a broader view of what goodness means, how we can create it and the impact it can have. That Goodness is created through the work of our People, the skill & expertise of our Farmer partners and our customers around the globe. 'Goodness' is also about being good to people and communities, animal welfare, and showing care and respect for the environment. 
What's the programme? 
This is your opportunity to thrive by surrounding yourself with goodness in so many ways. Great people, opportunities to immerse yourself in a future focused globally successful organisation, and the goodness that comes with a supportive, inclusive environment.
Think of the Graduate Career Programme like sampling different areas of the business and finding your fit. Based on evolving business needs, and your own interests, you'll rotate around areas of the business, contributing to projects and enjoying invaluable mentorship. That means you'll quickly build a wealth of knowledge through exposure to different areas of a broad, world-renowned global food marketing business. While thriving in your chosen area, you can hone skills across Sales, Marketing, Employment Relations, NPD, Marketing, Livestock and Agriculture, Supply Chain, Technology and Transformation, Risk and Sustainability, Commercial, Operations and Procurement.  
Working with great people, you'll enjoy our down-to-earth culture, where no question is silly and no learning opportunity wasted. You'll get continuous feedback and be hands-on in your projects, so making your mark on an iconic global brand starts on day one. 
This is a permanent role where you should feel set up to thrive at every step – that includes backing you with a competitive salary and benefits. Once you reach the end of the programme, you'll be set for a role that best matches your skill, training and goals, and ready to carve out your career in the future of food!  
Who you are 
You'll be approaching the end of your tertiary studies, maybe even nearing the end of your Master's, and thinking big and bright about everything that's next. Maybe you don't have it all mapped out yet? Good, that's where the Graduate Career Programme comes in. If you're interested in kick starting a career with a global food marketing business, this start is as good as it gets. 
You'll excel academically, display leadership qualities through work, education, or community involvement, and be completing studies in a relevant area; anything from the commerce side, from Agri-business, to sales, marketing and finance; or science, engineering and technology. Or perhaps you're studying food sciences and nutrition, or IT, engineering, automation… Whatever your background, you'll be a natural innovator, always looking to solve problems and take the lead. If you're armed with ambition and love to learn, you could truly go anywhere with Silver Fern Farms.  
Ready to kick-start your career and create goodness? Let's get started. 
You can learn more about our Graduate Career Programme here.
APPLY NOW
< SEARCH OTHER JOBS